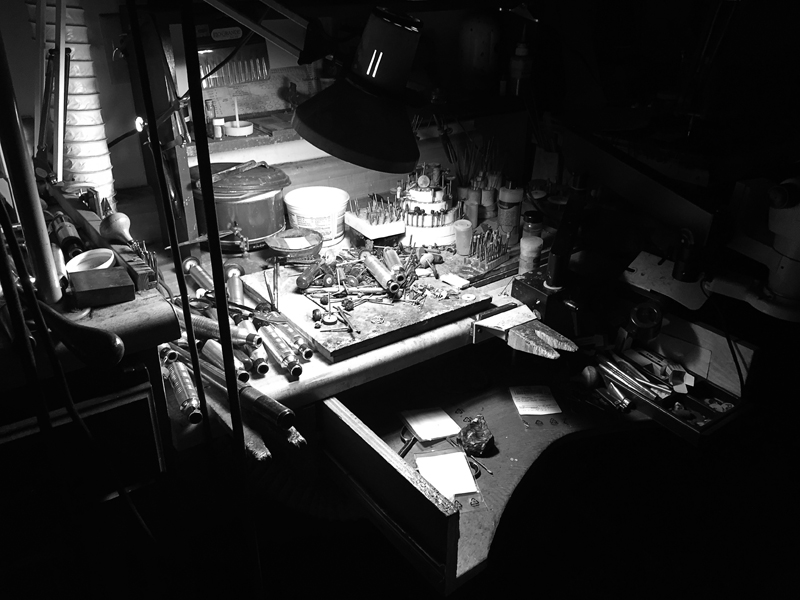 As a master goldsmith and certified gemologist, I have been designing and creating fine jewelry for over 35 years. My work has been featured on the runway at Couture Fashion Week in New York, and has been on display in fine art & jewelry shows across the country. I attended Penn State University where I did my undergrad in fine art and my masters in metal arts. I was a full time 3D art & jewelry instructor for the first ten years of my career, and even now as a full time jewelry designer showing at 18-20 shows per year, I enjoy taking on apprentices. My love of precious metals and stones fuels my passion in my work, and I'm constantly seeking perfection in my designs.
I currently use a mix of hand-crafted wax carving and jewelry design software, which enables me to push the boundaries on whats possible in design. I currently have my main design line, and I'm constantly in search of incredible museum quality stones to create stunning one-of-a-kind pieces throughout the year. I happily take on custom projects and bespoke work. The mix of software and hand-craft creates an exciting and engaging adventure for my clients, and it takes the guesswork out of the equation.
All of my finished pieces are appraised, photographed and archived in our secured digital management system. These files can be accessed at any time for insurance claims and replacement values. This saves time and money and gives you the ability to email your information directly to your insurance company.
We count celebrities, well-known athletic coaches, and collectors from all over the world a part of the Sharon Teaman Designs following. I currently work with my daughter, Chloe Alpert, also a certified gemologist, who assists me in my sales and certain custom works. Our goal is elevate jewelry to art, and create an heirloom that will be treasured for generations to come.